The Friday Showdown.
[
]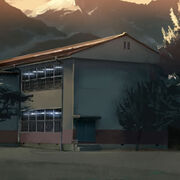 The Friday Showdown
Gymnasium.jpg

| | |
| --- | --- |
| Place: | Kamachi School Gymnasium |

| | |
| --- | --- |
| Outcome: | Two Aethers captured by Aether Hunters Kashou and Kou, information from battle would lead to the two's deflection from the Orginisation. |

Belligerents

Aether Hunters

Renegade Aethers

Leaders

Kizuato Kashou

Windel

Strength

Kizuato Kashou, Arakaki Kou, Furimio Ayuna

Windel, 3 Aethers

Casualties

None

2 Aethers captured. Windel and the other survivor fled.

  [Source]
Also known as the "Figth in the Gymnasium".
The name given to the event that took place during the friday only a short time after the School bands performance.
The Event had been planned throughly by Kashou a couple of days and was her first move to fight the Aethers in the open. It ended with a major victory for the Aether Hunter side.
Background.
[
]
"Will write this later."
Aftermatch.
[
]
"Will write this later."
Trivia
[
]